Dec 3, 13:49 (Filed under: Prague sightseeing )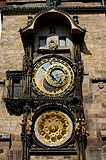 The Prague Astronomical Clock (called Prazsky orloj in Czech) is one of the most popular tourist attractions in this town; something on what almost every Prague visitor is about to take at least a brief look. Lets have a bit closer look on this adorable tower clock now.
The Prague Astronomical clock is situated on the tower of Old Prague City Hall on Old Town Square. Its beginnings are dated back to the late Middle Ages, to the times, when astronomical clocks were constructed in various place in Europe. Probably in 1410 were constructed the oldest parts of Prague clocks – the mechanical clock and astronomical dial, by Mikulas of Kadan and by Jan Sindel, who later became a professor at Charles University in Prague. In about 80 years later, there were added the calendar dial and façade was decorated with the late Gothic style sculptures. In 17th century were added the baroque style moving sculptures in the upper part, from which the Skeleton is the most popular one. And only in 1865 – 1866 was added probably the most famous component of the whole thing – the sculptures of moving Apostles, hidden behind the windows, which are opened every full hour, and visitors can thus watch Apostles walking around, which is sometimes even followed by applause. In 1870 was the calendar bellow the clock decorated by paintings on golden background by famous Czech painter Josef Manes.
During the centuries passing by, the astronomical clock was often broken so it often needed to be repaired. The greatest damages were caused by Nazi army on 8th of May 1945, shortly before its capitulation in occupied Czechoslovakia. But fortunately, astronomical clock was repaired, although the great effort was needed, it started to work again in 1948 and now can be still admired both by Prague inhabitants and visitors.
* * *
Dec 3, 13:23 (Filed under: Prague events )
Would you like to return back to your childhood? So visit an exhibition of teddy bears in Prague's museum at Florenc. Teddy bear, a snuggling and at the same time an inconspicuous plush toy is for majority of us a symbol of years of childhood. If we made a public inquiry about this product it would probably be the most successful little animal of 20th century. Teddy is maybe popular for its good-natured eye which brings to child's soul peace and calm. Adults reminisce times when hugged it and whispered it their little big joys and troubles. It is necessary to add that teddy bear find a way to little boys' and girls' heart more than hundred years ago.
Thanks to the initiator of this exhibition – Mrs. Alena Dolezalova, who on November last year organized in Prague's Museum successful exhibition "Dolls of our grandmothers", we can look forward to the great exhibition. At the exhibition you can see about 500 teddy bears and their friends (other little animals) which were created since 1910 to 2000. A. Dolezalova is a member of Collectors of Curiosities Club and she prefers these teddies which she gained as presents from famous persons in 50's and later. She favours teddies from the first half of 20th century which are mostly German and English provenance. She says: "My first collection teddy bear is from 1910. I got it from one older madam – countess from Chrast by Pilsen. I remember that I liked moveability of its limbs and head, these older teddies (at the beginning of 20th century and at its first half) could be set in motion as a whole so children liked them more."
The smallest teddy measures 0,5 cm and the biggest 140 cm, is from 1950 and was exhibited in a shop-window of one Prague store.
Now I tell you something from Teddy's history. Teddy was born on 23th October 1902 in a plush toys factory in Giengen town not far from Ulm in Germany. Original teddies had a simple immovable construction and the new one was equipped by movable limbs to impress naturally. The author is Richard Steiff.
So if you want to see this unusual and unique exhibition come to the main building of museum in Florenc, the address is: Na Porici 52, Prague. Open is daily (except for Mondays) from 9:00 – 18:00. Entrance fees: adults 80 CZK (2,6 €), students, pensioners, disabled persons 30 CZK (1 €) and every first Thursday in month is open until to 20:00 and fees are free for pupils, students and pensioners and for the others it is 1 CZK (0,03 €). The exhibition is being held from 21.11. 2007 – 24.2.2008.
* * *
Nov 23, 11:59 (Filed under: Chapters from history )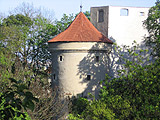 One of the towers of Prague Castle is called Daliborka (Dalibor´s tower). It is a round shape tower, situated on the edge of the Golden Street. The tower was built in the late gothic style in the end of 15th century, during the rule of the king Vladislav Jagello by the architect Benedikt Ried. The tower was used as a prison for dangerous prisoners, and after the first one of them, Dalibor of Kozojedy, it got its name.
The legend says that Dalibor was a good noble man, whose neighbor was an evil knight Adam of Drahonice. Adam of Drahonice was very cruel to his dependants. So they rebelled, captured him and made him to set them free. Then they asked kind Dalibor to be their new liege. He agreed, and promised them much more freedom then they got under the rule of Adam of Drahonice. But the fallen knight got angry and with other evil knights brought a false accusation against Dalibor, so the king had to imprison him.
Of course, that Dalibor was not very happy in the prison, but he was not starving, because the prisoners were allowed to buy some food, if they had money. But suddenly, Dalibor became quite short of money and thus in danger of death by hunger. Luckily, he was saved by chance.
In the prison, he was often bored, because he had nothing to do, so once he bought a violin and stared to play on it. He was pretty talented so soon was such a good player, that passer-byes were stopping under the tower to listen him playing. And once hungry Dalibor got an idea, he asked the jailor for a basket and a rope. Then he put the basket on the rope and let it go down on the street. Those who liked his music put some food in the basked. And because he played very well, he got a lot. Dalibor was popular among the people, so they often asked the king to free him, but it did not happen. He was sentenced to death and beheaded.
But sometimes, during the nights when the moon shines brightly, the voice of his violin can be heard even these days.
Now, it is hard to say, if Dalibor was really just an innocent and poor kind noble man as says the legend. Maybe he just wanted to gain the domains of Adam of Drahonice, so he encouraged his people to rebel against him for what he was rightly imprisoned.
* * *
Nov 22, 09:48 (Filed under: News )
Last Saturday a neo-nazi row was supposed to take place in the area of Prague Jewish town. A distasteful idea that is, taking account of the history of the area also known as the Jewish Ghetto (historical) or Josefov. The 1941- 1945 years were the period of the harshest violence against the Prague Jews in its history. However brutal the previous pogroms were these were less common than in the case of middle age Germany, Spain or Russia. The massive deportation of Prague Jews meant death for thousands. The walls of the Pinkas synagogue carry the names of 77 297 victims.
Kristallnacht, the large pogrom in the Nazi Germany, marked the start of the systematic mass murder of European Jews. The Nazi skinheads from Czech Republic, Slovakia and Germany announced an assembly at the day of its anniversary, pretending it's a mere coincidence.
Fortunately, the anti-Nazi turnout easily overshadowed the organizers and the march itself was prohibited in the end.
Most of the demonstrations were peaceful. The Jewish organizations and various groups sent a clear message to the majority: ignorance may be bliss, but it's often suicidal. The
anarchists, holding a demo on their own, sent a clearer message, one of aggression. Frankly I have a problem judging them for breaking the rules. Their approach could be understood when seen in contrast to the sadism of the neo-nazis, who are used to brutally attacking just about anybody and sometimes even killing people, and in contrast to the usually lax approach of the Czech police. The problems arise when the Nazis turn out to be weaker than thought and when the Czech police turns out no to be lax.
This time the police stopped the skinheads and the radical anarchists looked somewhat betrayed. They came to have a fight and now it's over. It seems crazy to me. All those who take part on a demo to block the neo-nazis from marching through the places that witnessed their idol's heinous crimes should celebrate if the march was off in the end. The confrontation itself is not the point.
I have to add one more note: the Czech media tend to oversimplify just about everything and there's no exception in this case. Having witnessed quite a part of the demo I can say that the group describes as "anarchists" consisted of many different groups of people, many of them students and people with no thirst for blood. The hardest core consisted of several dozens. The majority were those who just wanted to express their disgust over the existence of tendencies such as celebrating the Holocaust by people living in this society.
I personally hope that the neo-Nazis will not be allowed to demonstrate in the capital any more. And if they will, I hope the opposite side will be sensible. Excesses from the "anarchists" side marginalize the distinction between them and the Nazi skinheads in the eyes of uninformed public.
One thing the previous Saturday did prove: anti-Semitism is very marginal a sentiment in the Czech Republic. Let's hope it stays that way.
* * *
Nov 14, 13:51 (Filed under: Prague events )
On 31st of October started an extensive exhibition of Jindrich Streit´s photographs at Stone Bell House, which is part of City Gallery Prague. The old building of the House, situated in Staromestske Square nr. 13, is very interesting by itself, as it was the most formidable Prague town palace in 14th century, probably used by the king Jan Lucembursky himself.
Now there is this photographic exhibition, huge retrospective of Streit´s work, which shows pictures taken between years 1965 – 2005. Jindrich Streit is worldly known documentary photographer, most famous by his pictures of Czech villages of Bruntalsko region in the 1980´s, where he lived himself. He captured there the villages in the time of real socialism, without any romantic or idealizing pathos so characteristic for depicting Czech villages in previous times. But in the communist period, he was persecuted for his work; even his negatives were once confiscated during a house search.
After the Velvet Revolution in 1989 he could finally work and exhibit freely. He continued in shooting pictures of Czech villages, but also traveled abroad, for example to France, Hungary or Russia. Although his most exhibited collection of 1990´s was On the way to freedom, showing the pleasantness as well as hell of drug addiction.
This retrospective is pretty extensive and definitely worth of seeing. Streits photographs are full of an admiration for simple human existence and they show a lot of human beauty, even when it is sometimes hidden under dirty clothes or in ugly exteriors.
The exhibition is opened until 3rd of February 2008. Entrance fee is 120 Czk full price, 60 Czk reduced.
* * *
Nov 7, 13:39 (Filed under: Chapters from history )
17th of November is the day of National holiday in the Czech Republic. Do you know why?
The day is officially celebrated as "The Struggle for Freedom and Democracy Day" but it is also known as "The Day of students". It is so because that day is in the Czech history connected with two very important students manifestations, during which the youth became the conscience of the nation.
The first Manifestation took part in Prague, in 1939, during the World War II, when the funeral of Jan Opletal turned into manifestation against Nazi occupation. Jan Opletal was a Charles University student, who took part in march celebrating the annual of the Czechoslovak Republic Independence on 28th of October, the march was suppressed by Nazi forces, Opletal was seriously injured and he died on 11th of November. 15th of November was the day of his funeral, which was attended by thousands of students and became the huge anti-Nazi demonstration. As a result, all the Czech universities and colleges were closed, over 1000 students were sent to concentration camps and 9 students were executed on 17th November. To commemorate these events, the 17th of November was marked as The International Student's Day by the International Students Council in London in 1941.
Fifty years later, in 1989, when the communist rule over central-eastern Europe was already breaking down, the students manifestation commemorating the memory of Jan Opletal started so called Velvet Revolution, which led to Czechoslovakia freed of the deliberating communist regime. This peaceful demonstration, attended by thousands of people, was suppressed by police riots in order to not to let the students go to Wenceslas Square, the most symbolic place for the Czech nation in the modern history. A lot of people were injured; students went into strike and soon were joined by artists and then by other people who also wished the end of the communist rule in Czechoslovakia. And it was successful. On 10th of December the communist president Gustav Husak appointed largely non-communist government and resigned. On 29th of November, Vaclav Havel was elected the president of democratic Czechoslovakia. And finally, in June 1990, the first democratic election since 1946 was held in the country.
So the 17th of November is officially remembered as the Student's day already since 1941, but only in 2000 this day was as "the Struggle for Freedom and Democracy Day" made an official national holiday.
Spot-on comments [1]
* * *
Oct 29, 13:45 (Filed under: Prague events )
There is now quite an interesting exhibition to be seen in the exhibition spaces of the Municipal Library, which is a part of the City Gallery Prague. It is called Zaostali for ever (which translated into English means Retarded for ever) and presents work of an interesting group of Czech artists, founded twenty years ago, in 1987. Its members were fine artists Hugo Demartini, Bedrich Dlouhy, Zdenek Beran and Pavel Nesleha, architect Jan Kouba and music composer Jan Klusak. Each of them had his own style, but they were bound together by similar sense of humor. The ironic name Zaostali (Retarded) was chosen to present their will to resist the Art world fashion of their time. In the late 1980´s, in the slowly liberating political atmosphere, were founded some Artistic groups, which intended to use a lot of new media in their work, but members of Zaostali wanted to stay faithful to classical old media – painting, drawing, sculpture.
What is characteristic for Zaostali, is non-conformist and sometimes even shocking arrangement of their works, so for example, in one room you can see paintings arranged on the floor. And also the sense of irony is in general typical for them.
It has no meaning to describe their works here, you must see them. The exhibition is pretty good, so is definitely worth of seeing even for those who are not that much into Art, because works presented here are not "traditional" and do not lack sense of humor.
The library is situated at Marianske Square, not too far from Staromestska Metro station (green line). But the entrance to the gallery is from Valentinska Street, and the exhibition rooms are situated in the second floor of the building. The exhibition is opened until 25th of November, every day except Mondays, from 10 a.m. to 6 p.m.
* * *
Oct 25, 15:10 (Filed under: Prague walks )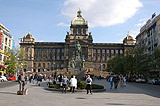 The most common place that you won't pass without noticing is the biggest square in Prague called Vaclavske namesti (Wenceslas Square).
The square is known for all kinds of activities that are going on there. On a regular basis it is a very impulsive and enthusiastic place to meet with others and enjoy shopping, dining in restaurants and experiencing the nightlife such as partying in the clubs and visiting casinos or cabaret performances. This is a nice appearance of the Wenceslas Square with the statue of dominating St. Wenceslas which is situated in the upper part of the square.
On the other hand, you should watch out while visiting Wenceslas Square because this place is known for homeless people, beggars and whores. During the day, there is a high concentration of people, and therefore you should always make sure that you your bag or handbag is under your control. Another important thing that you shouldn't do at any point is to exchange your money with strangers in the street because they will be most likely to rip you off. There are safe places to exchange your money such as the exchange office or there is the possibility of taking your money out of ATM. These are just few things to be considered when you are passing through the Wenceslas Square.
Wenceslas Square is still a great place for amusement. It is a very pleasant place for shopping. The well-known brands such Diesel, Jannis, Bata, Kenvelo and plenty of others can be found there. If you get hungry while shopping, you may decide to have your lunch in a pizza place, in a restaurant in Lucerna or in a fast-food restaurant like Mc Donald's or KFC.
Wenceslas Square is a place that never sleeps, and therefore it is a good idea to return there in late night hours. There are plenty of bars, restaurants, nice discotheques and cabarets that can be enjoyed late in the evening.
Spot-on comments [1]
* * *
Oct 22, 09:53 (Filed under: Prague pubs, restaurants and cafes )
Restaurant "U Marianského obrazu" (which means At Marian picture) is located in Zizkov, a Prague area well known for its amazing amount of pubs, bars, and restaurants. So it has a huge competition here, but I would definitely put this one on my list of favourite places where to eat in this part of Prague. You can find this restaurant on the corner of Fibichova and Kubelikova Street, facing the famous Akropolis Palace.
It is a place of choice; go just for a beer, or eventually for a beer accompanied with something small to eat, as sausage, camembert cheese or so, but you can go here also for a proper lunch or dinner as well. And they cook well. Offer is of a relatively wide range; you can find things of different kinds on the menu (available both in Czech and English language). There are soups, already mentioned "small things with beer", vegetable salads, fish, chicken dishes, beef or pork, traditional Czech and also Slovak cuisine dishes, there are deserts…
During the lunchtime, there is a daily menu of things you can offer and get really fast, without long waiting for them to be cooked. Meals on the daily menu are mostly of traditional Czech cuisine, and they are not expensive. But unfortunately, I did not notice that they would have the daily menu also written in English. So there is a need to ask the waitress for some translation.
* * *
Oct 12, 15:32 (Filed under: Chapters from history )
The name is untypical, the only church in Czechia to carry it. It is derived from St Castullus, a Roman citizen of a high rank, who secretly converted to Christianity and took the pains to spread the religion illegally. In the end he fell victim to the tyrant and anti- Christian fanatic Diocletian (towards the end of the 3rd Century), who had him tortured and killed, like all the Christians he could find.
Formerly a small Romanic church was sanctified in St Castullus' name in the 12th Century. There are foundations of the former building about a meter and a half under the current one. That was founded in the forties of the 14th Century and built in a Gothic manner. Originally a three- body project resulted in a combination of two bodies and a chapel.
As it is placed near the river and on a low level, the disastrous floods of 1436 decimated the church. The fact that it recovered owes much to spontaneous activity of the Prague wealthy citizens, since the number of contributions was considerable.
Like many churches, St Hastal church also served as a school. It is, however, believed, that it could not keep up with the demands and was closed down in 1624, becoming a Catholic vicarage after two centuries of unsuccessful management by Hus's followers.
It burned down on 21 June 1689, as both the Old and the New towns were struck by a tragic, revolting case of arson. The disaster was probably caused by a group of French criminals operating in Prague and resulted in a series of brutal acts of vengeance against French expatriates in general. The church itself was repaired, though the reconstruction naturally gave it a different character and consequently, we may now see only remains of the original Gothic ceiling and the sacristy. It was damaged again in 1757, during the Prussian conquest of Prague, as a cannon ball flew through the altar and into one of the walls, where it still lies today.
Surviving Joseph II' and his anti- church reforms, only the neighboring cemetery was closed down.
The inside offers famous religious statues and a sacristy, which was left unharmed by the many wounds St Hastal received. It is also in very pleasant a place, Hastalske namesti (Castullus Square), in an unusually calm area near the Republic Square. An area of narrow streets, older than the surroundings and visibly so since it is situated a bit lower than the neighboring parts.
* * *
Oct 8, 12:26 (Filed under: Culture, Prague events )
There is a very interesting exhibition in the Gallery of Prague Academy of Art, Architecture and Design, which is situated at Palachovo namesti (Jan Palach Square), close to Staromestska Metro (green line) or tram (no. 17 and 18) station.
Some of the students of the Academy prepared here an exhibition called Husakovo 3+1 (Husak´s 3+1).
Gustáv Husák was the Czech president in 1975 – 1989, since 1971 he also held a very influential function of the general secretary of the Czech communist party. The illiberal period of his rule, which followed the period of liberalization in the sixties, is known as Normalization.
In the time of Normalization, a lot of uniform slab blockhouses (pre-fabricated, by the USSR) were built. And in this exhibition you can see one of such flats. With everything – there is a kitchen, living room, bedroom, children's room, small bathroom with a toilet. Everything is so authentic! The furniture, toys, old washing machine, old soap, even old toilet paper and old black and white television screening old stuff from the seventies…
If you are in the Czech Republic for some time already, you have probably seen many of these things as they are still present in a lot of Czechs households, but you have never seen so many of them in one place.
I strongly recommend you to visit the exhibition; it will give you an idea how it looked in Czech households thirty years ago, back in the time of communism. Those slab block flats were quite small so the visit will not take you too much time, and the entrance is for free. Exhibition is opened till 24th of October.
* * *
Oct 3, 09:58 (Filed under: Prague events, Film )
Once a year, Prague celebrates India's massive film industry, by organizing Bollywood Film Festival, where we present a wide range of movies that are somehow influential in India. 14 films are screened, among them Krrish (a superhero Krishna has to save a world), Dhoom 2 (policemen Jai and Ali are trying to catch Mr. A all the way to Rio de Janeiro, or Zubeida (young woman fighting for her freedom and her new love).
This year the festival takes place at Svetozor cinema, from 11th to 14th October. It is also a reminder of India's 60 years of independence anniversary (by the way, the independence celebration already happened on 15th August at Strelecky Ostrov).
The festival started five years ago when several students of Film and TV Department of the Academy of Performing Arts in Prague organized screening of Bollywood movies for other students, and it became so popular that they organized whole festival for the next year.
Svetozor cinema is located at Vodickova 41, very close to the middle of Wencelas Square. There are going to be Indian food served during the festival. Films are in two screening rooms, and the entry fee is either 80 or 100 CZK (3€), depending in which room the movie is going to be shown. The accompanying program includes Bollywood party in P.M. Club; Trojicka 8, and the entrance fee 150 CZK (5 €).
The films are in Czech translation, with English subtitles.
* * *
Oct 2, 13:06 (Filed under: Prague events )
Our Saturday objective was to get to Gröbeho vila, drink as many burcaks as possible, and spend the rest of the money on burcak in bottles that we would drink later at home. This pocket money was specially devoted to this event and was taken from a piggy bank. There was a grape harvest festival in Havlickovy Sady, and since I love this young wine, I couldn't miss this event.
One by one. It was a beautiful warm and sunny day, and to get more thirsty, we didn't go straight there. We started at Mala Strana and went to Kampa to see the pottery market. There were some nice pottery traditional products, but I enjoyed the beer and the sausage more. Walking on through Kampa island, we crossed the bridge over Vltava. As usual, on one of its island, Strelecky Ostrov, a concert was being prepared for the evening. On the other side of the bridge, dozens of bicyclists quickly reminded us that it's a Day Without Cars day. Btw all these cyclists seemed in danger in the traffic. Changing our course back to Charles bridge, there was a charitable sale of work all the way down to Karlovy Lazne. Of course, accompanied by beer tents where we had to stop. There was also a jolly music, first jazz, and 50 metres forward, salsa dancing.
By the time we got to the Old Town Square, the cyclists outdistanced us and they already gathered at the square. But the young wine quest suddenly seemed so long, we decided to cheat, and we hopped on a tram. On the way, we saw a chopper guys meeting, Black Dogs clan, or something. Once again, when we got to Havlickovy Sady, the bikers outran us and caused a slight turmoil when arriving there.
Finally, when we got there, the real fun begun. I mean, we started drinking burcak. And I've never thought how quickly can one glass of burcak bring a smile to one's face. But the other program was good, too. Lots of mead, roasted pig, lots and lots of traditional products made at the spot, people in historic costumes, entertainers, original medieval beggar, jugglers, castle parade, swordplays, archery range, etc. Ideal for children. And for old children like us, back to the wine quest. The prices were very friendly, 2dcl cup for 18 CZK, or 1 litre for 70 CZK. It was a pity that you could buy red burcak only at one stall, where was an endless queue. We drank a litre there and brought another two home each of us.
Now I can say, Prague is really a wonderful place.
There was even a joke going on, i'll try to translate: How do people from Moravia segment wines. Into categories: good, not good, good enough for "Praguers". If you speak some Czech, might make more sense: "Jak deli Moravaci vino? Na da se, neda se, da se Prazakum."
* * *
Sep 27, 10:01 (Filed under: Chapters from history )
The oldest of Czech chronicles did mention Polish captives in the kingdom, the father of our first chronicle-writer, Cosmas, supposedly one of them. A daughter of the Polish king of the period married the first Czech to be crowned king and so became the first Czech queen in 1062.
The court of the Czech king towards the end of 1290s offered an interesting sight. The chronicle of Zbraslav reports, that there were numerous monks and guests came from Russia, Hungary and other Slavic lands, causing some confusion with their long beards and Slavic- language ordinances, while the official language for such occasions at the time was Latin.
During the rule of the House of Luxembourg (1308- 1442) the Polish and Hungarian nobles and even rulers visited the court on numerous occasions. The reasons were often practical, in pursuit of marriage for example, as in the case of the king Casimir the Great in the 1340s. His daughter Jadwiga later founded a college at the Prague (Charles) University, a department for the Latvian students, who did not turn up in substantial numbers and the college was used mainly by less wealthy Czech students.
In order to stay with substantial testimonies of Prague we better move on to the 17th Century, when Francis II Rákóczi spent years on studies in the city. The Hungarian prince and later a leader of an Anti- Habsbourg uprising- and a man considered national hero in Hungary, studied philosophy and paid a lot of attention to Prague social life. His notes are critical of the University teaching system and present Prague as a city of wild night life.
A grave situation occurred in 1741 as German and Polish forces attacked the city. It was, needed to say, mainly the Saxon army. There was less of a battle than of a skirmish at the Vysehrad, by the parts of the city fortifications still to be seen today.
A testimony worth mention remained after Countess Golicyn (1766- 1821), a visitor from Russia when she belonged to the favorites of Catherine the Great. She mainly recalled Prague's gothic character and the spectacle of the Saint John of Nepomuk celebrations. During a 1835 visit, another Russian noblewoman thought Prague resembled old Italian cities. Admiring in general, she only criticized the city's dressing fashion, supposedly inferior to similar customs in Vienna. Of the notorious 19th Century Russian figures, one of the fathers of anarchism, Mikhail Bakunin paid several visits to the Czech patriots and, more notably, Peter Ilyich Tchaikovsky made a great impression on the Prague audience in 1888.
* * *