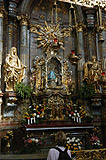 I've made up a short list of worship services in English language, of course, it is not complete, but I hope it might be useful for someone.
Church of England, St Clement's Church – located on the street Klimentska 18 (near Namesti Republiky), the English service takes place each Sunday at 11 am.
Roman Catholic Church, Church of Our Lady Victorious – the address is Karmelitska 9 (near Ujezd, where is the Funicular Railway to Petrin), service every Sunday at 12 am.
Roman Catholic Church, St. Thomas` Church – Josefska 8 (at Malostranske Namesti, over the Charles Bridge), Sunday 11 am, and Saturday 6 pm.
Baptists, International Baptist Church of Prague, Vinohradska 68 (near metro A stop Jiriho z Podebrad), Sunday 11 am.
Prague Christian Fellowship, Jecna 19 (near metro B stop Karlovo Namesti), Sunday 3 pm.
Church of Jesus Christ of Latter-Day Saints, Milady Horakove 85/95 (near metro C stop Hradcanska), Sunday 9 am.
Czech Brethren, International Church, Peroutkova 57 (it is quite off the centre, near metro line B stop Radlicka), Sunday 10.30 am.
Protestant (Evangelical) Church, St. Michal`s Church- V Jircharich 14 (quite near Tesco at Narodni Trida, or maybe better landmark is Dog's Bollocks bar), takes place each Sunday at 11 am. – The English service was abandoned due to the return of pastor to Canada. (thank you Bas).
If you know any other interesting services in English or other international languages, or if you have any experience with these services, please let me know. Thank you.
Nov 14, 09:15 (Filed under: Other )
« Free morning press available outside metro stations in Prague | Bazaar of Winter Sports Equipment in Zlute Lazne »
The Prague Christian Fellowship meets Sundays at 4:30 at the Evangelical Methodist Church at Jecna 19 in New Town.


— Ray Wilck    Nov 24, 09:27    #
|