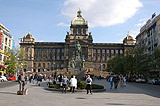 The most common place that you won't pass without noticing is the biggest square in Prague called Vaclavske namesti (Wenceslas Square).
The square is known for all kinds of activities that are going on there. On a regular basis it is a very impulsive and enthusiastic place to meet with others and enjoy shopping, dining in restaurants and experiencing the nightlife such as partying in the clubs and visiting casinos or cabaret performances. This is a nice appearance of the Wenceslas Square with the statue of dominating St. Wenceslas which is situated in the upper part of the square.
On the other hand, you should watch out while visiting Wenceslas Square because this place is known for homeless people, beggars and whores. During the day, there is a high concentration of people, and therefore you should always make sure that you your bag or handbag is under your control. Another important thing that you shouldn't do at any point is to exchange your money with strangers in the street because they will be most likely to rip you off. There are safe places to exchange your money such as the exchange office or there is the possibility of taking your money out of ATM. These are just few things to be considered when you are passing through the Wenceslas Square.
Wenceslas Square is still a great place for amusement. It is a very pleasant place for shopping. The well-known brands such Diesel, Jannis, Bata, Kenvelo and plenty of others can be found there. If you get hungry while shopping, you may decide to have your lunch in a pizza place, in a restaurant in Lucerna or in a fast-food restaurant like Mc Donald's or KFC.
Wenceslas Square is a place that never sleeps, and therefore it is a good idea to return there in late night hours. There are plenty of bars, restaurants, nice discotheques and cabarets that can be enjoyed late in the evening.
Oct 25, 15:10 (Filed under: Prague walks )
« Restaurant "U Marianského obrazu" | Zaostali for ever »
|