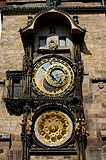 The Prague Astronomical Clock (called Prazsky orloj in Czech) is one of the most popular tourist attractions in this town; something on what almost every Prague visitor is about to take at least a brief look. Lets have a bit closer look on this adorable tower clock now.
The Prague Astronomical clock is situated on the tower of Old Prague City Hall on Old Town Square. Its beginnings are dated back to the late Middle Ages, to the times, when astronomical clocks were constructed in various place in Europe. Probably in 1410 were constructed the oldest parts of Prague clocks – the mechanical clock and astronomical dial, by Mikulas of Kadan and by Jan Sindel, who later became a professor at Charles University in Prague. In about 80 years later, there were added the calendar dial and façade was decorated with the late Gothic style sculptures. In 17th century were added the baroque style moving sculptures in the upper part, from which the Skeleton is the most popular one. And only in 1865 – 1866 was added probably the most famous component of the whole thing – the sculptures of moving Apostles, hidden behind the windows, which are opened every full hour, and visitors can thus watch Apostles walking around, which is sometimes even followed by applause. In 1870 was the calendar bellow the clock decorated by paintings on golden background by famous Czech painter Josef Manes.
During the centuries passing by, the astronomical clock was often broken so it often needed to be repaired. The greatest damages were caused by Nazi army on 8th of May 1945, shortly before its capitulation in occupied Czechoslovakia. But fortunately, astronomical clock was repaired, although the great effort was needed, it started to work again in 1948 and now can be still admired both by Prague inhabitants and visitors.
Dec 3, 13:49 (Filed under: Prague sightseeing )
« Teddy bears and their friends | The Palace of Culture / The Congress Centre - Palac Kultury / Kongresove Centrum »
|