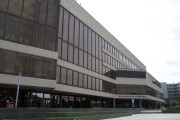 This unmistakable building was a product of the seventies' idea of pompous architecture. Neighboring Vyšehrad and the Nusle Bridge, it is very visible cold and slick. In my opinion it presents the better of the socialist architecture. It is functionalist (or neo- functionalist), but the shapes are relatively tasteful, the overall impression is light, especially in sunny weather, and it fits very well into the spot, which is indeed a cross- section of several motorways leading to roots of the large bridge. Of course, it may be seen as sad that the place was turned into a concrete zone in the first place, but there's not much that can be done about that.
The decision to build the palace came in February 1975. The Party officials intended the palace to present grounds for large exhibitions, concerts, Party gatherings etc. The competition resulted in the choice of a team of architects led by Jaroslav Mayer. The construction took four years and the palace was opened in 1981.
The project reflects the multiple functions the building has, thus not being symmetrical in shape or interior. There is quite a large public terrace in front of the building, with impressive views on the city. Walking through this place of random gatherings leads directly to one of the gates to Vyšehrad. This allows you to make a truly sightseeing, or maybe "wonder view" walk from the Vyšehrad metro station (placed at the heals of the Congress Centre) to the Vyšehrad fortifications and back. It's also wise to use opportunity to descend to Podskalí once you're finished with the old castle area, since it offers yet another face of Prague history.
The Congress Centre, as the building is called since 1995, contains two important halls. Most important of all, the Congress Hall , which has the capacity of more than 2,700 seats. There also other halls, places for multiple use, including cultural gatherings and administrative premises.
It was re-constructed in 1998- 2000. The major event on the spot was the IMF and the World Bank Summit in 2002. A lot could be said about this event alone, since it brought large, often chaotic demonstrations, which in my opinion exceeded the acceptable range only in a few isolated situations. Anyway, seen from the view of the Congress Centre, the summit was a success and the building remains a prestigious multifunction centre.
Dec 6, 12:56 (Filed under: Architecture )
« The Prague Astronomical Clock | Zizkov - where it got its name »
|