Do not miss this unique chance and visit museums in Prague at night. This event is truly extraordinary. Not only are nearly all museums in Prague open at this rare hour but you can get in there for free! Yes, this is no mistake – Prague Museum Night means great exhibitions for free at special opening hours. So make sure you don't miss it!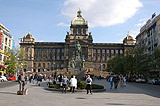 So when is it? This year Prague Museum Night takes place just today – on June 14th. It starts at 7 pm and the museums will be open for you till 1 am. And yes, you don't have to pay a thing since on this very day it is all for free. And where is it? That's easy – in nearly all museums in Prague, starting with the National Museum, and followed by Jewish Museum in Prague, National Technical Museum, Museum of Decorative Arts, City of Prague Museum, Museum Kampa, and so on.
What's more, as if this was not great enough, not only museums but also galleries in Prague will be open for free this very night. Just to name few – National Gallery in Prague, City Gallery Prague, Galerie Rudolfinum and many more. Not to mention that in many museums and galleries there will be additional program as well such as concerts, theatre performances and much more. Just come and see.
I would like to point out one more positive thing – to make the traveling between the museums easier, the Prague Public Transportation Company arranged special bus lines which will link all galleries and museums in Prague, and yes, for free again. The central transfer point will be at the square Namesti Jana Palacha, near the subway station Staromestska (green line A). From there you will be able to get to all museums and galleries you want.
Don't worry that you will not get home since even the subway will exceptionally run till 1:30 am. So enjoy the Museum Night in Prague!
Jun 12, 13:29 (Filed under: Prague events )
« National Holiday – 8th of May – the day of the victory | "Alive" Exhibition in Prague »
The idea is gorgeous, BUT… I've been, I tried quite a lot of these museums and they were absolutely packed: Letohradek, Sv Aneska, Umelecko Prumyslove, Naprstkovo… And buses, no chance to jump in, overcrowded, as the rest. So again, the idea is fantastic, BUT… this event should be spread within severals days.


— Strogoff    Jun 19, 07:06    #
|