Aug 20, 14:32 (Filed under: Architecture )
Prague councillors want the Masaryk Railway Station in Prague to be closed. This station is located quite close to the Main Railway Station and thus is not that necessary as trains can stop there instead. And it often also work that way, that trains stop first on Masaryk Station and then on the Main one. But as both are located in the city centre and there is good public transport here it is probably not necessary to have two stations so close to each other.
But if the Masaryk Railway Station will be closed, what will be put on its place instead? The old historical buildings itself are a cultural heritage, so as such should not be destroyed. And the proposals for using this object are various. One of them, proposed by National Technical Museum, was to make it a museum of railways, but it was rejected by Prague councillors who are responsible to decide how to use the space. So then there could be flats, but also shopping centre or administrative buildings… final decision about cancelling the Masaryk Station should be made in the half of September. Lets hope that if they decide to close it, the place would be then used properly at least, but still, Prague would lose something special – when the first train came to Prague, on 21st of August 1845, it stopped on the station which later became the Masaryk Railway Station (named after the first president of Czechoslovakia ).
* * *
Apr 16, 15:31 (Filed under: Architecture )
The contemporary perception of a historical object is somehow special and it differs from various approaches exercised in the past. Remains of the past times are always hard to deal with: you may either treasure them for being products of an age that is gone or you can destroy them so that they don´t occupy precious space that can be used for the new. The first approach requires the shared view of those responsible that we should care about history, connect to it, try to understand it. If there is to be a connection, it makes perfect sense that our environment should share some of the environment of our ancestors. This has its limits of course, otherwise we would have to live in a giant museum. The approach agreed upon is based on delegation of certain people who decide whether an object, apart from being historical, is also valuable in terms of artistic quality, technology, etc., whether it is useful enough. The goal is a responsible proportional share of the historical and the present or even futuristic. Because respect for the old can easily be conflicting with an excitement for progress, novelty.
What I find interesting is the fact that observing the old objects became a sort of a positive fetish, or at least a source of excitement. The sight of people queuing in front of something 500 or more years old is extraordinary in a way. Mainly because it is a somewhat new element, a product of the past, say, two centuries, if we ignore the medieval rulers´ craving for antique objects, which is a different matter. Old buildings and objects provoke emotions: pride, nostalgia, wonder… and they create an illusion of a connection with history. As a tourist, one does feel, by paying a visit to its main antiquities, that he or she forms a connection with the past of the place, discovering its character as a result. It is an illusion of course, because you can never understand a place by simply looking at its foundations and it all may be more about self- satisfactory feeling of being "cultural", but it does make sense and its consequences are mostly positive. There are many ways to interpret the trend, but what we may observe as its result is preservation, care for the historical objects.
* * *
Dec 6, 12:56 (Filed under: Architecture )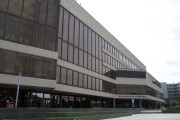 This unmistakable building was a product of the seventies' idea of pompous architecture. Neighboring Vyšehrad and the Nusle Bridge, it is very visible cold and slick. In my opinion it presents the better of the socialist architecture. It is functionalist (or neo- functionalist), but the shapes are relatively tasteful, the overall impression is light, especially in sunny weather, and it fits very well into the spot, which is indeed a cross- section of several motorways leading to roots of the large bridge. Of course, it may be seen as sad that the place was turned into a concrete zone in the first place, but there's not much that can be done about that.
The decision to build the palace came in February 1975. The Party officials intended the palace to present grounds for large exhibitions, concerts, Party gatherings etc. The competition resulted in the choice of a team of architects led by Jaroslav Mayer. The construction took four years and the palace was opened in 1981.
The project reflects the multiple functions the building has, thus not being symmetrical in shape or interior. There is quite a large public terrace in front of the building, with impressive views on the city. Walking through this place of random gatherings leads directly to one of the gates to Vyšehrad. This allows you to make a truly sightseeing, or maybe "wonder view" walk from the Vyšehrad metro station (placed at the heals of the Congress Centre) to the Vyšehrad fortifications and back. It's also wise to use opportunity to descend to Podskalí once you're finished with the old castle area, since it offers yet another face of Prague history.
The Congress Centre, as the building is called since 1995, contains two important halls. Most important of all, the Congress Hall , which has the capacity of more than 2,700 seats. There also other halls, places for multiple use, including cultural gatherings and administrative premises.
It was re-constructed in 1998- 2000. The major event on the spot was the IMF and the World Bank Summit in 2002. A lot could be said about this event alone, since it brought large, often chaotic demonstrations, which in my opinion exceeded the acceptable range only in a few isolated situations. Anyway, seen from the view of the Congress Centre, the summit was a success and the building remains a prestigious multifunction centre.
* * *
|