Oct 25, 15:10 (Filed under: Prague walks )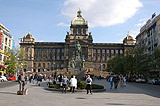 The most common place that you won't pass without noticing is the biggest square in Prague called Vaclavske namesti (Wenceslas Square).
The square is known for all kinds of activities that are going on there. On a regular basis it is a very impulsive and enthusiastic place to meet with others and enjoy shopping, dining in restaurants and experiencing the nightlife such as partying in the clubs and visiting casinos or cabaret performances. This is a nice appearance of the Wenceslas Square with the statue of dominating St. Wenceslas which is situated in the upper part of the square.
On the other hand, you should watch out while visiting Wenceslas Square because this place is known for homeless people, beggars and whores. During the day, there is a high concentration of people, and therefore you should always make sure that you your bag or handbag is under your control. Another important thing that you shouldn't do at any point is to exchange your money with strangers in the street because they will be most likely to rip you off. There are safe places to exchange your money such as the exchange office or there is the possibility of taking your money out of ATM. These are just few things to be considered when you are passing through the Wenceslas Square.
Wenceslas Square is still a great place for amusement. It is a very pleasant place for shopping. The well-known brands such Diesel, Jannis, Bata, Kenvelo and plenty of others can be found there. If you get hungry while shopping, you may decide to have your lunch in a pizza place, in a restaurant in Lucerna or in a fast-food restaurant like Mc Donald's or KFC.
Wenceslas Square is a place that never sleeps, and therefore it is a good idea to return there in late night hours. There are plenty of bars, restaurants, nice discotheques and cabarets that can be enjoyed late in the evening.
Spot-on comments [1]
* * *
Aug 26, 14:12 (Filed under: Prague walks, Other )
Children's island (Detsky ostrov) is an ideal place where you can take your kids if they want to play a bit. On this island on the Vltava (Moldau) River is located a big and really nice playground.
You can easily get there if you take a tram to Ujezd station (there goes trams number 12, 22, 23 from Malostranska Metro station), then you go to Vitezna Street, continue still straight till you get to the river at the end of the street, then you turn to the right and walk by the river on your left hand till you see an access to the island.
And there is a big playground, which any child should like. There are many attractions – swings, slides, nets for climbing, sand for building castles, wooden boat, wooden little house and many others.
There are also quite a lot of benches where parents can sit, while watching over their kids or enjoying the view on the Vltava River and buildings on its banks. And beside the entrance is a restaurant, where you can buy something for refreshment.
Dogs are not allowed in. And the playground has only one entrance and around it is a fence, so you do not have to worry, that your child could get lost easily here.
* * *
Jul 29, 13:06 (Filed under: Prague walks, Out and About in Prague )
The Prague Royal Park is well known by every citizen of Prague under the expressive name Stromovka (Tree park). The current area of 85 hectares is full of trees…leafy, evergreen, small, tall, rare and protected, and also quite usual, though very nice and pictorial birch groves. Stromovka belongs now to the most popular pleasure places for Prague inhabitants, and nonresidents as well. It is very well accessible from the metro station Nadrazi Holesovice, from where we get to it´s eastern part.
The park will satisfy all age categories. For mumms with babies it is built here couple of modern playgrounds with swings and other attractions. For old age pensioners, lusting for silence and quiet it´s here enough noiseless and shady places with benches. For couples in love it is here enough romantic hideaway places. Even sportsmen won´t be cheated…the park is virtually linked with bicycle and in-line paths. These are separated from foot paths, so you don´t have to worry about collision.
When the bicycle is not enough for you, I suggest to go to the Sport Park Stromovka in the north part of the park, providing many activities. You can find there opened and covered tennis courts, fitness center, sauna and physical rehabilitation. Then you can refill the given calories (in case you are not on diet) in local restaurant with excellent cuisine.
About four years ago a very interesting project was set up here. It is called Three oaks. With a support from prominent persons, for example tennis player Martina Navratilova, three symbolic oaks were planted. Since this time every citizen can buy his own tree, which will be used for renewal of Stromovka, which was partly destroyed by flood. On the bought tree a notice with the name of the donator will be placed.
First information about the Stromovka park are dated from 13th century, when it was set up as a hunting deer-field. Gradually many ponds were built here, which are unique by their watering. Water from the Vltava river is lead by one kilometre long Rudolf´s tunnel, built already in 16th century. So in the beginning Stromovka was built for hunting purposes, but during the centuries and with many modifications and tree planting it became a beautiful park, which is giving pleasure up to now.
* * *
Jul 25, 16:58 (Filed under: Prague walks )
This Saturday, it took us ages to wake up. It was already one pm, and the sun was blazing down, as usual. Not enough time to start something big, and also not in the mood to stay at home. We decided to discover more of Prague's surroundings, and we agreed to try one nature trail that made its way from Reporyje to Hlubocepy. This trail was said to cover all these things: walk in the forest, seeing wilderness area and preserved nature, meeting some interesting animal, botany, or insect species, stopping for some food, drinks, etc.
Well, it didn't run through exactly as it was planned, but the end was happy. First, we took metro line B to station Luka. There we changed to the bus no. 249 to Reporyjske Namesti square, and we found ourselves in the countryside. We had a small tourist guide printed as we didn't want to get lost. Basically, from the square, you pass the church from the left side, and turn right to Dalejska street. Follow the street, and soon turn left, in front of the viaduct. Then it is important to always follow the green-white mark, which will lead you through the most interesting spots. First hour of walking, we had some mixed feelings, actually, it was not such a great walk. We saw some abandoned buildings, reputedly mills, then a lot of garbage along the way, the sightseeing places were boring, plus a mosquito sting me. But as we were passing the places, they were only getting better.
When we passed a camp of weekend houses, we reached the eight board called Holyne, where we stopped in the local small pub. This certainly perked us up. Royal Krusovice beer served in the royal glass for royal price, 18.50 CZK. The food menu was either Nakladany Hermelin cheese or Utopenec sausage, and we tried both. They were really good. We sat outside, on the bench in the shadows, eating and drinking, while listening to one local guy who was playing the guitar, and singing in a low deep voice songs about love, women, life, the voice marked with years of beers and cigarettes. It was a lively atmosphere there. One more beer and we left. Following the green-white mark, we soon arrived in front of the cave. Exploring this cave is a must! It is actually a tunnel, but looks like a cave, since you don't see the other exit, it gets a bit scary. Our last stop was a splendid lake between high rocks in Podolske Udoli, with tame swans begging for a piece of bread at the shore.
In a nutshell, it turned out to be a nice afternoon, and if you want to experience both a piece of nature, and Czech countryside, you might consider it. What more, if you have a bike, these roads are perfect for bikers.
* * *
May 2, 09:09 (Filed under: Prague sightseeing, Prague walks )
During my first walks around Prague Castle some years ago, I noticed many pretty gardens below it, but I thought they're private property, no trespassing, etc. Luckily, I was wrong, as there is historically formed connected belt of greenery gardens available to public, and these are: Ledeburg Garden, Small and Great Palffy Gardens, Kolowrat Gardens, and Small Furstenberg Garden (Great Furstenberg Garden is being reconstructed and is not open to public)
Actually, these gardens are not only open for walks, but also for private parties, concerts, weddings, etc. I will not write much about their history, I just want to mention these sightseeing gardens offer really nice view of Prague panorama, and can be a suitable place to walk and relax in this lovely cultivated area.
On May, the gardens are open from 9 to 19, next summer months even longer. The place is right in the centre, no need to travel far, the address is Valdstejnske namesti 3 (very close to metro line A Malostranska). And to mention the entrance fee, it is 79 CZK (49 CZK reduced), and optionally, 20 CZK to Ledeburg gallery.
Spot-on comments [1]
* * *
Mar 26, 14:26 (Filed under: Prague walks, Prague sightseeing )
It took me ages to find a way to get to this all-above Zizka-on-the-horse statue that looks like it's guarding Prague. I must admit I have never really tried to find the way, and I found it unintentionally, as usual, when we went for a walk. So we were passing streets in Karlin area when a big shady tunnel came into view. A sane person would not enter it, but then we saw couple of people coming out of this tunnel. Our curiosity forced us inwards. It was a long and exhausting up the hill passage. At the end of it, there was neither any awaited surprise from the unknown nor any revealed secret.
We found ourselves on the other side of the hill, at Zizkov, at a regular rush street, full of shops, restaurants, bars. From here, it was not far away to walk up the hill again, crossing the rails, and going through a green park, we reached Zizkov Monument, or if you want, Vitkov Monument. Honestly, on the spot impression of the statue of General Jan Zizka overlooking the city of Prague is much considerable. The monument behind the statue is the Monument of National Freedom which honours people that fought for the establishment of the Czechoslovak Republic. We did not get inside into the museum as it is open only on first Saturday each month. Maybe its good to mention that upcoming event is the May 7th Monument exhibition for public at 2 pm. The site was very interesting, there was bunch of guys throwing Frisbee, many couples on the walk, older people sitting at benches, a dogfight, and the whole panorama of Prague was splendid.
The way we took to get there was probably the worst possible. It's much easier to take a bus (no. 133 or 207) from Florenc one stop to "U Pamatniku", and climb a little steep hill. Or you don't have to climb anything, but you need to walk much longer alley, that is to get off at tram stop Ohrada (take trams 1, 5, 9 or 16). Last but not least, if you choose sunny day, this place is really good spot to take panorama photos of Prague.
Spot-on comments [1]
* * *
Feb 27, 13:52 (Filed under: Prague walks )
When my working day is over, I often go for a walk, it's my way of mental relax. Today, it was Friday, very early afternoon, when I arrived home. I was finished with my tasks for the day, and had this feeling I sometimes have, that I need to get out of the town. Nature and country, that is what I needed, a change from urban to rural. The time was passing, plus the fact that the daylight doesn't last that long yet, I had to act quick. After short internet research my girlfriend and I made a decision. We dressed warm, and went to experience a romantic afternoon in the park Pruhonice.
By taking metro C line to stop Opatov, we started our trip. There, one should transfer to suburban buses (no. 324, 325, 363, or 385) and get off at stop Pruhonice (around 15 minutes ride, not farther than 20 km from the centre of Prague). Because it's not in the town, there is an extra charge 8 CZK to normal ticket.
So we got off and before entering the park, we took in some energy at a local restaurant "U Bezousku", where we tried their own made yeast beer! Very good and very strong, and with a noble name – "bison". Park and chateau Pruhonice offers fairy tale nature, ideal for bummels, wandering around, meditating and contemplating, and we finally walked in. The winter time is, I think, the worst time to see it, well, it was beautiful, but when I saw pictures of the park in spring/summer when all the flowers are in bloom, that's just amazing. The chateau is splendid from the outside, but it was impossible to get inside :-(. The park itself is very large, there are many footpaths, many creeks, several lakes, and miscellaneous vegetation. The meadows are plowed by moles, there are fish in the lakes, ... Soon we stopped at the first bigger observation point and started feeding the ducks with the bread. Oh, not to forget, the entrance fee to the park is 40 CZK for an adult and 20 CZK reduced, and it is open daily until 5 pm (from April until 7 pm).
It is not so interesting to describe what all our steps in the park looked like, shortly, we had a great walk, and when leaving, we looked at the map at the entrance and found out that we saw not more than one fourth of it (now I see that buying the map of the park for 5 CZK would have been a good idea). Anyway, It was the best time for the dinner. Maybe 100 metres from the park, we found a pizzeria near the square. It was our last stop before going home. We entered and enjoyed hot and tasty pizza mexicana along with cooled Pilsen. Two beers and a large pizza made it 200 CZK, standard price, acceptable for this nice restaurant. I couldn't believe it but I was so exhausted from our little trip, and despite the fact that we arrived home at a reasonable time, like 7 pm, we had to call it a day, there was no town hitting for me that day, all I did was enjoying my nap in front of my sweet TV.
Spot-on comments [2]
* * *
Nov 6, 15:33 (Filed under: Prague sightseeing, Prague walks )
... read Four different Prague sightseeing – part 1 first …
Time went by, quite slowly, the clock struck five and we were still full of energy to get on with our tour. We followed the path, where a moment later we discovered one impressive monument. As we soon found out, it was a memorial of Julius Zeyer, famous Czech poet. It is some kind of an artificial cave with several statues and a spring of water falling into a small lake. Very pretty indeed, I didn't expect something like this. Here, we took our last pictures before the camera batteries ran out of energy, which was a pity, because just few meters away on the right side we found probably the best outlook on Prague. I acted as I knew the place and that it was my intention to bring girls there, although I saw it for the first time as well. There are benches to sit on and one can see some of the most beautiful bridges over Vltava. This was quite romantic. We sat there and started eating home made sandwiches.
Again, we walked on, reaching Letenska Plan, the open area that holds many concerts (e.g. Rolling Stones in summer 2003), next to it, Letenske sady (gardens) serve as a place for a picnic, outing, summer sports, etc. Plus, in this area, there is National Technical Museum, which is, however, due to the reconstruction closed from September 12.
So the next and for this time the last view of Prague was this one at Letenske sady. In the middle of the square, which also serves as a place for meetings of young people, there's a big functional metronome, and the view of Vltava River and the Prague Old Town. We went for a beer to a beer garden, this time, we were not lucky to grab a free bench with a good outlook on Prague. So we sat on a grass, which was soft and dry so it was in some detail quite comfortable.
Now, we could see how much we had walked, so we all thought, this might be enough of sightseeing for the day. I introduced a game, one of us pointed out a building anywhere in town, but he or she had to know what it is and why it is special in some way. The other two guessed what it was. I know I had an advantage, but I was also curious if girls had remembered at least something from what I had told them as a tour guide. On the way down the hill and into the centre walking over Cechuv most and then on the fancy street Parizska with shops like Louis Vuitton, Hugo Boss, and many more, we were playing a different game. Guess the country's capital town. Any country in the world. This one is my favourite game.
It was eight o'clock, and we didn't miss Prague Astronomical Clock show. No need to write more about it, I'm sure everyone saw it. We slowly left heading to Powder Tower at the end of the street Celetna, full of shops offering Czech crystal. Passing the tower, we also saw the building of Czech National Bank and The Municipal House that holds many concerts of high-ranking composers of classical music.
Anyway, I partially ruined the rest of this perfect day. I took girls to Chinese restaurant near Namesti Republiky (Republic Square). The food was cheap and there was a lot of it. The waitress brought it on three plates. It didn't taste very well, though. We ordered three different meals but I had this feeling that the only thing that was different was the sauce. I ate the whole dish and felt bad afterwards. My stomach hurt. Well, no more romantic walking, we decided to call it a day and got on the first metro and went home. As I recall it back now, It was a long walk, and I was happy to do it. I didn't know that those distances are in fact not so long. The positive thing was that most of the time we spent in city's nature. For a while, we changed cars, trams and all the buildings for trees, bushes, and walking on grass.
* * *
Oct 3, 12:08 (Filed under: Prague sightseeing, Prague walks )
Last weekend I had a visit from abroad, two girls, first time Prague visitors. So we went on a walking and sightseeing tour. It took us all afternoon, and I will try to write in details about the things we observed and perceived, because we saw a lot. Different views of Prague from different perspectives.
We started our tour in tram no. 15, which took us near Strahov. Precisely, to stop Malovanka, near Pyramida hotel, and then we walked few minutes up the hill arriving at Strahov stadium, which was our stop number one. It is the view of Mala Strana and Smichov parts of the town. Worth a look. The good thing was that it was not far away to walk to Petrin from there. So we continued walking downward, passing students' hostel Strahov, which besides accommodating university students serves also as a hostel for tourists. There are several playgrounds around the place, including football pitch with artificial green, basketball and beach volleyball sportground. In the night, several pubs and discos are open, one to mention is Club 007 Strahov with mainly punk, ska and every Saturday hip-hop music. It is located in building number 7, street Chaloupeckeho 7.
Ok, we passed the place and paced to the left not more than hundred meters when beautiful garden full of roses and benches to sit on showed up. Ideal for a date. At least these two girls that were with me loved it. We were taking pictures every other moment. In a short while, I was attracted by sun dial behind the statue of Milan Rastislav Stefanik, one of the founders of Czechoslovakia, also a passionate astronomer. This dial practically shows the right time!
Few moments later, we were standing under shrinked Eiffel Tower, its called Petrinska rozhledna watchtower. We didn't go upstairs, instead, we entered Jara Cimrman museum in the basement of the tower. This fictional man was a science genius. Did you know that Eiffel tower was originally planned to have straight legs, but Cimrman advised Eiffel to twist them to give the construction more strength and stability. Some of his ideas and inventions are really funny. Plus this museum is free of charge.
Our next stop was the mirror maze, where distorting mirrors have finally shown the truth. Me as a very muscular man, ha ha. This labyrinth is opened daily, and the price was 50 CZK for an adult. The funicular at Petrin is still not working, so we walked on to Pohorelec and then approached the castle. On the way, on the right, there is one typical Czech pub called U Cernyho Vola (Black Ox), which despite the attractive location, still offers Czech Pilsen for like one Euro. I haven't been there for some time and I noticed they repainted the interior. It looks better. This pub is usually full, full of both tourists and local people. One quick beer and we left.
Very soon we found ourselves in front of Prague Castle. Because up there at Petrin we didn't see any view of Prague, here was our second stop for lookout. This was nicer and closer view of the Old Town behind Vltava. Then I convinced the ladies to stand next to the castle guard, one from each side, and to start telling him jokes or some sweet things to make him smile. We succeeded! The guard smiled and he even said 'mmmm' couple of times as a way to answer our stupid questions about his job. And so we have a smiling guard of Prague Castle on a photo. We didn't want to bother any longer, so we left, said 'Ahoj', he said his m-word and we went taking more pictures of the court, and charming St. Vitus Cathedral. It was closed at the moment, and we turned left to visit Kralovska zahrada – Royal garden. They don't seem royal to me, but yes, another tip for a romantic walk. Plus another view of Prague to the right from Kralovsky Letohradek Belvedere. This view is not the best and trees cover big part of it so I would not count it as a third one.
Maybe one thing we missed during this walking trip was some book guide, because we didn't know much about buildings, statues, and monuments around us.
Spot-on comments [2]
* * *
Sep 21, 10:22 (Filed under: Prague walks, Prague sightseeing )
The phrase of today: low budget leisure in Prague. That is right, me and my friend-girl decided to relax, but we were really short of cash at the moment. At the same time, we wanted to seize the day. And here is the intersection we made. We entered the first supermarket and bought a bottle of dry red wine from southern Moravia, piece of french Camembert cheese, and some fresh bread. The receipt was cca 100 CZK.
The weather forecast is good, sunny with small clouds here and there. Time for a picnic, well, i mean le pique-nique. We took a metro line C to a stop called Vysehrad, behind the famous Nuselsky most. It was our first time there but we had no troubles with directions, although my sense of direction is sub zero, that's why i usually take someone with me. The arrows showing you the right way are everywhere.
Soon we found ourselves at Vysehrad, more precisely, in front of the Church of Peter and Paul. Trying to keep the budget low, we decided that we will see only one of many exhibitions available. We tried the Gallery (10 CZK fee). My friend liked it, I did not. Well, I did a little, there were several really catching photos from one australian guy. This gallery is really tiny and in ten minutes we were gone, sitting on the grass, me opening the bottle of wine while my friend cut the cheese into petite slices. It was a pleasant afternoon, we both enjoyed being not productive at all. We drank the whole bottle and were even happier.
After a short nap, we went for a walk around, visiting the cemetery with famous dead people, checking the sightseeing, oh how i love the view of the centre of the town. The only thing i wanted to do was to jump on the highest peak and shout to the world Eminem's lyrics: ‿Prague is mine for the taking. Make me king!' I was pacified by my friend and we went down the hill on feet.
We arrived at Palackeho Namesti, and walked the way to Charles bridge on a concrete river bank where available. My advice is to try it. I mean the river bank. Not many people are there, and the traffic is meters above you so you don't even hear it and having a romantic walk, watching sea-gulls or the river stream you feel the serenity. We were lucky enough to catch the sunset above. We called it a day and took a tram home considering this day successful.
* * *
|